Our Office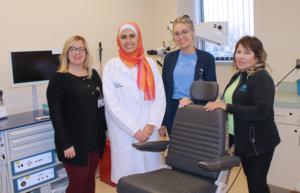 FCHC North Medical Office Building
725 South Shoop Avenue
1st Floor, Suite 104
Wauseon, Ohio 43567
Phone 419-335-3712
Fax: 419-335-3713
Welcome
Welcome to FCHC Ear Nose and Throat.  Our Ear, Nose and Throat Specialist, Diala Almardeeni, MD specializes in treating patients with a wide range of conditions. With in-depth experience in a variety of ENT procedures, we provide state-of-the-art advanced treatment including minimally invasive sinus surgeries and other ENT treatments.  At our FCHC Ear, Nose and Throat clinic, our focus is on delivering the highest level of ear, nose and throat treatment in the region while also offering personalized care close to home.
Services
Conditions Treated at FCHC Ear, Nose and Throat
Ears – Treatment of hearing loss and Pediatric ear conditions.
Nose – Treatment of the nasal cavity disorders including acute and chronic sinusitis, nasal obstruction and pediatric snoring.
Throat – Tonsillar and adenoid hupertrophy, recurrent tonsilar infections, peritonsillar abscess, tongue tied revisions.
Your Health Is Our Priority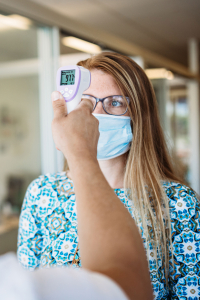 During these unprecedented times your care will be delivered differently. These changes have been made to comply with new guidelines set in place to promote social distancing and ensure our patients continue to receive their care in a safe environment.
You may notice the following changes at your next appointment:
Health Screenings before your appointment is scheduled and again upon arrival. This will include a temperature check and questionnaire. All who enter the building will be screened.
Universal masking for employees and patients. We encourage you to bring your own face covering. One will be provided if needed.
Accommodations for social distancing. No waiting room. You will be asked to call from your vehicle to register. Once a room is available you will be taken directly to a room.
Designated entrances for patients. Please follow the directions that will be given to you over the phone.
Handwashing is the best defense but hand sanitizer will be available for use.
Keep in mind that you will need to arrive at least 15 minutes early to allow time for the screening and registration process.
We understand that these changes are impacting your experience in the office. In order to keep our patients and staff healthy we are required to implement these new guidelines.
For more details on safety precautions at our physician offices please call the office.
What To Bring To Appointments
When you visit our office, please remember to bring three things with you:
Your current photo ID, such as your driver's license
Your current health insurance card
A list of medical prescriptions you are currently taking